The Dynamics 365 Business Central Credit Card solution
Easy. Secure. Fully Integrated.
Currently only available for businesses located in Mexico, Canada, and the USA and Canada.
Don't let credit card processing take over your day
Are you selling products to businesses or consumers? Do you sell subscriptions? Are you providing professional services? No matter the industry, your customers expect you to accept credit cards. Your customers also expect their credit card information to be secure. And you expect credit card processing to be simple to setup and simple to use.
Do you want to give your customers the opportunity to swipe their credit cards or insert their chip cards to pay for their invoices? Do you have field service personnel that should collect fees at the time of service? Our credit card solution gives you the opportunity to choose from different terminals that can be used in different environments. You can have full terminal next to a register in your store or you can use mobile card readers on the go and use your Microsoft Dynamics 365 Business Central tablet or phone client to process credit card transactions.
If you have already researched a way to start processing credit cards for your customers, you might have noticed that it can be far from easy. You have so many different options to choose from. The different options come with different costs. And not all possible solutions can be integrated with Dynamics 365 Business Central.
Introducing NAV-X Credit Card: the Dynamics 365 Business Central Credit Card solution for the modern business.
easy
In just a few minutes, you can setup your app and start processing credit card transactions. And processing your transactions is just as easy.
secure
Your customers' data is always stored safely. It is stored gateway's system and this system is fully PCI compliant. You and your customers are always protected.
fully integrated
Credit cards can be charged automatically when an order is shipped and invoiced. Refunds can be processed with the click of a button.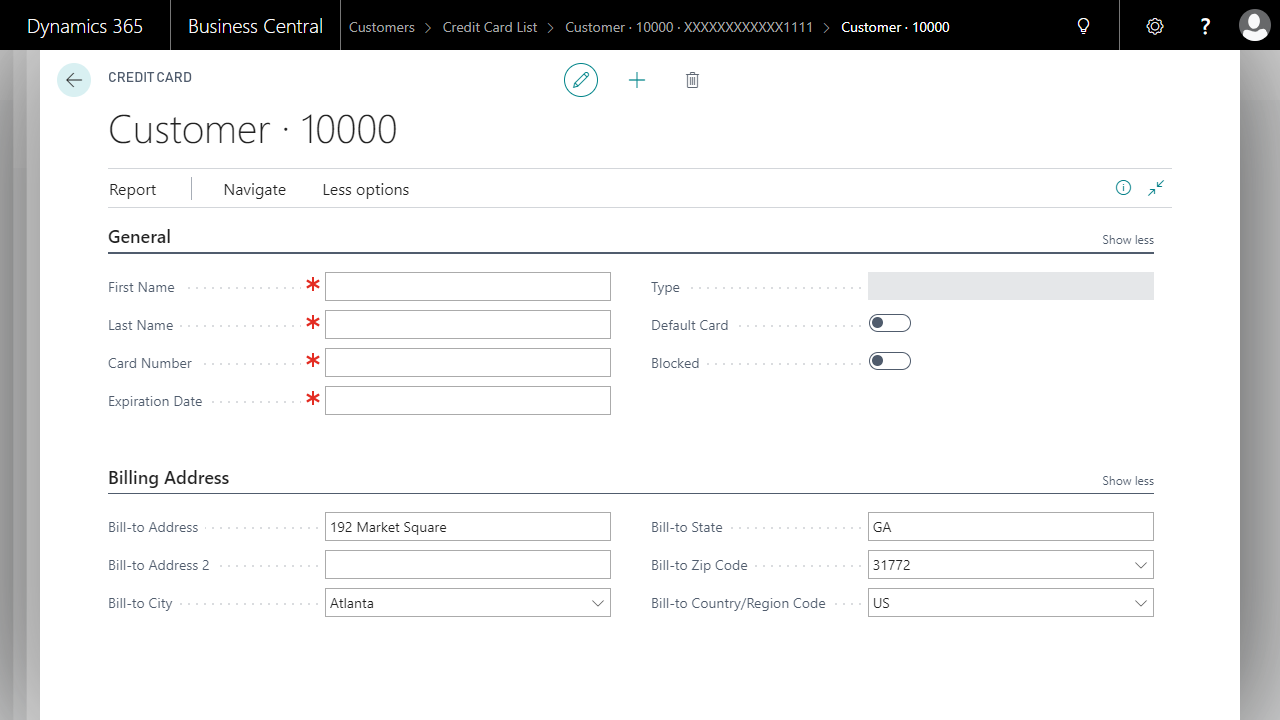 Security is key
Your customer's credit card data is completely secure. Once entered in the system, the credit card information is tokenized and only stored as a masked credit card number and a token within Dynamics 365 Business Central.
This is also one of the reasons that the software is fully PCI compliant.
"We needed a solution to integrate with Microsoft Dynamics Business Central that wouldn't break the bank. With NAV-X and Century Business Solutions, we got more than we were looking for - foolproof processing, a client payment portal, PCI compliance service, and we never need to handle our customers' card data."
- Bob Rook, Captiva Inc.
Learn more about our state of the art credit card solution